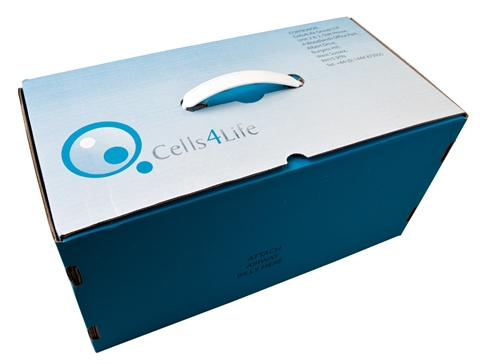 The type of kit that will be used to carry your baby's cord blood sample is one of the most important things you need to check when choosing a family cord blood bank.
The collection kit usually contains all materials that will be used to collect your baby's cord blood and it will also serve as the shipping container when the sample is transported to the lab for processing. Therefore, the kit must be able to maintain the cord blood sample's viability and keep it in good condition during many hours of transportation.
We have been shipping cord blood samples from many countries in the Middle East including UAE, Kuwait, Saudi Arabia, Lebanon, Qatar and Egypt for many years now.
"Because the Cells4Life's cord blood collection kit has a built-in special cooling system, the average viability of all samples we have shipped to the UK lab from the Middle East is 92%."
Here are the 3 amazing features of the Cells4Life cord blood kit that help us ship many cord blood samples from across the Middle East to their UK laboratory while maintaining the samples' high viability.
Award-winning packaging system
Cells4Life uses a specialised cooling device ─ a vacuum insulated panels surrounding rigid plastic cooler ─ to ship blood samples to the UK laboratory. This device keeps the sample at a temperature of 2-8 degrees Celsius during transportation that helps maintain the highest level of stem cell viability. The Cells4Life cord blood kit has ranked first on a cord blood shipping container experiment done in 2013
Packaged according to regulations
The Cells4Life cord blood collection kit is packaged in compliance with IATA Packing Instruction 650 which includes the following components:
a. A primary receptacle – the cord blood collection bags and a bio-pouch.
b. A secondary packaging – cardboard, vacuum insulated panels and rigid plastic cooler that serves as a mini-fridge and maintains the temperature of 2-8 degrees Celsius while the kit is in transit.
c. An outer box – a properly labeled external box for shipping.
Easy to use materials
Each Cells4Life collection kit contains a short and descriptive manual on how to use the materials appropriately. Once your baby's cord blood sample is collected and packed properly, the procurer only need to push one button and the cooling device will be activated immediately, and then it's ready for shipping. No complicated instructions in using the collection kit at all.
See what's inside the Cells4Life cord blood kit
So before you sign the cord blood storage agreement, here are some important questions you should ask the family cord blood bank representative about the cord blood collection kit:
a. Will the cord blood kit be able to keep the sample in good condition during long hours of transportation?
b. Does the kit assembly comply with the international standard regulations for shipping blood samples?
c. Is the cord blood kit easy to use? Are the procedures easy to understand and follow?
Do you have any other questions about cord blood banking? Call our dedicated cord blood specialists now on +971 4 3116613